THIS WAS SUPPOSED TO START IN AUGUST LAST YEAR - BUT TWO MAJOR PROBLEMS - I WAS BUSY and NO ONE WAS CONTRIBUTING ANYTHING - THAT MEANS YOU!
HOWEVER, I HAVE BEEN ACTIVE LATELY WITH MY WEBSITE ACTIVITY AND ARTICLE CREATION SO IF THESE DO NOT APPEAR ELSEWHERE ON SITE THEY MAY APPEAR HERE.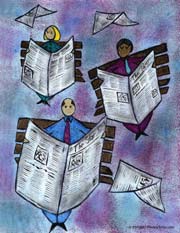 As soon as an issue of Rebel newsletter is complete, it will be added to this section here. Each month or two the newsletter will include latest news, interesting facts,
research results and your input also.

I ask you to be patient - this is a newly created site so it will not be till early 2006 that can enter this item here.

We (at this stage I) am/are always looking for new ideas and topics for the monthly newsletter. If you have an idea or would be interested in writing an article, please let me/us know.

You must have your own views about some aspects of M:TG or specific cards whether it is criticism or praise - so how about letting me know - that way your ideas can be seen by other magic players.

I am relying on such input to actually create such a newsletter - no input, no newsletter.

NEW ADDITION AUGUST 2006: LET ME REPEAT:
No input, no newsletter.

JANUARY 2007: HELLO, HELLO, HELLO,
ANYBODY THERE?
THIS IS A MESSAGE FROM A FUTURE

SEND YOUR IMPORTANT NEWS
You can use the form below to do this.